Image

29+ Years of Expert Tree & Shrub Care
Small, Locally-Owned Business
Tree Service in Central Maryland
Our 8-Step Tree and Shrub Care Program (listed below) provides the fertilization, insect control, and disease prevention needed to ensure year-round nourishment. Our Insect and Disease control treatments offer protection without harming seasonal insects and pollinators prone to our area. This program runs from early Feb-March through November-December (weather permitting).
Spring Horticultural Oil
Spring Root Zone Fertilization
Early Season Insect and Disease Control
Active Season Insect and Disease Control
Active Season Insect and Disease Control
Late Season Insect and Disease Control
Fall Root Zone Fertilization
Fall Horticultural Oil
Winter Anti-Desiccant
Central Maryland's Best Tree & Shrub Care
We understand the value trees and shrubbery can bring to the exterior of your property. Insect infestations and disease activity are only two major factors out of many that can quickly destroy the health and appearance of plants. Unhealthy trees and shrubs can alter the look and decrease the value of your beautiful property. Like us, trees and shrubs need a balanced diet of nutrients to stay healthy. For the best tree service in Central Maryland, the best option is American Lawn and Tree Specialist. 
What is Root Zone Fertilization?
Root zone fertilization is when liquid fertilizer is injected into the soil near the plant's roots. Much like your lawn, proper fertilization is at the core of every thriving ornamental landscape. We utilize well-blended fertilizer to maximize your tree/shrub's overall strength, create thicker and more luxuriant foliage and develop a stronger core root system.
What is Horticultural Oil?
Horticultural oil is an important tool in protecting your landscape investments. The treatment is applied directly to the bark of the tree/shrub, and its purpose is to eradicate exposed insects. The application is completely safe for the plant and is a great way to curb the insect population while boosting resistance to disease activity. Our technicians have the knowledge and expertise needed to apply the appropriate materials to specific trees and shrubs required throughout the year.
Why Do I Need Insect and Disease Control?
Insects and diseases can affect your ornamental landscape throughout the entire growing season. We identify which plants are susceptible to these problems and treat them every 21 days for control and future prevention. Keeping your ornamental trees and shrubs insect and disease-free will increase the plant's overall vigor and appearance. While many different types of insects and diseases impact the health and livelihood of our central Maryland ornamentals, some of the more common diseases in our area are:
Anthracnose
Apple scab
Cankers
Fire blight
Powdery mildew
Thousand canker disease (TCD)
Verticillium wilt
Some of the most common insects are:
Aphids
Bagworms
Beetles
Hemlock wooly
Emerald ash borer (EAB)
Mites
Sawflies
Bringing Healthy Lawns, Trees, and Shrubs to Central Maryland
Our premium Tree and Shrub Care Program will protect your ornamental plants from disease activity and insect infestations. Why not let us protect your valuable lawn investments now and provide them with the professional, personalized love and care they deserve? Contact American Lawn and Tree Specialists today and receive a FREE No-Obligation Tree and Shrub Care proposal. For information regarding the types of products we use and the ingredients they contain, view or download our Product Information Page now.
Image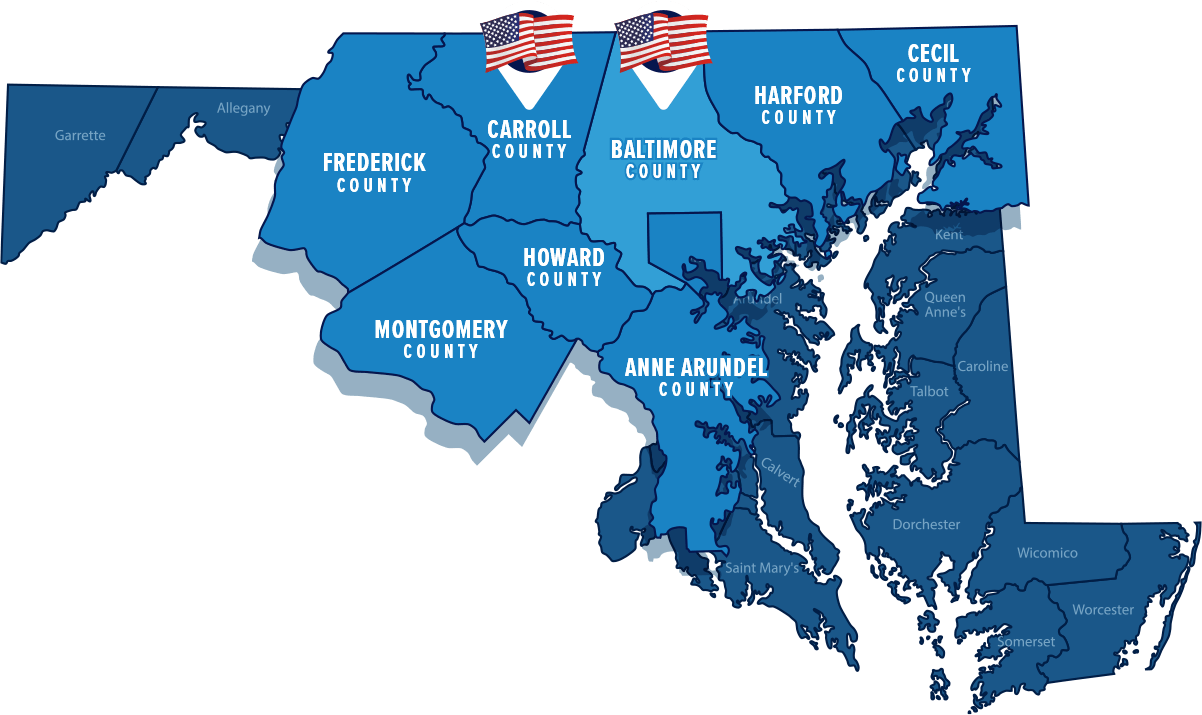 Areas We Service in Maryland
Our lawn care company started with just four customers. While we've grown since then, we still have a personal touch that's only possible from a small business. We're proud to service areas in Maryland including: