Image

Bring Your Lawn Back to Life with Quality Aeration & Seeding
Small, Locally-Owned Business
Lawn Aeration in Central Maryland
If your yard isn't looking as healthy as it used to despite proper maintenance, the issue is probably soil compaction. Over time, things like foot traffic, heavy rains, and heavy machinery can compact the soil. This makes it impossible for fertilizer or water to reach the grass roots, causing brown spots and dead patches. To reverse this damage, trust American Lawn & Tree Specialists for expert lawn aeration in Central Maryland!
Benefits of Lawn Aeration
You should aerate your yard at least once a year to ensure your grass has the room it needs to breathe. We recommend doing it in the fall because that's when grass roots are actively growing. Plus, it helps your turf recover from the stress of summer. After you aerate, you'll see a range of benefits, such as:
Stronger roots:

Grass has a large root system, but it can't spread out if the soil is too dense. By breaking up the soil, we give roots space to grow.

Improved grass health:

Healthy grass starts with healthy roots. Ensuring water, nutrients, and oxygen can penetrate the soil results in visibly healthier turf.

Reduced water runoff:

Puddles and runoff are caused by soil that's so compacted that it can't absorb water. The only way to fix this is with lawn aeration.

Thicker grass:

After aerating, grass seed has the perfect conditions to sprout. New growth results in a thicker, more even turf.

Resistance to stressors:

A healthier yard can naturally fight stressors like pests, drought, and disease.
Follow-Up with Overseeding
Just like any other plant, grass doesn't live forever. Disease, physical damage, pest activity, and even old age can cause it to die. That's what our overseeding services are for! We use high-quality tall fescue seeds to fill in bare patches, giving you a nice and even yard.
How Core Aeration Works
We use core aeration machines that remove small plugs of soil and place them on top of the ground. This gives you instant results by creating channels that water and nutrients can use to reach grass roots. We leave the dirt plugs to ensure we aren't removing any nutrients from your grass, and they'll eventually break down and rejoin the rest of the soil without causing compaction.
Locally-Owned With Family-Friendly Values & Treatments
We've been a locally-owned lawn care company for over 29 years, and we couldn't imagine working anywhere else! We care about our community and love helping our neighbors transform their outdoor spaces. Our small business roots are evident in everything we do, including our lawn aeration in Central Maryland, from friendly greetings to honest services.
Free Inspections for Central Maryland Lawn Aeration
It's not easy to figure out why your yard is declining, but you don't have to do it alone. At American Turf & Tree Specialists, our team goes through training that prepares them for any situation. We know how to tell the difference between compacted soil and grub activity, and we can also create an effective treatment plan just for you. It all starts with a free inspection!
Image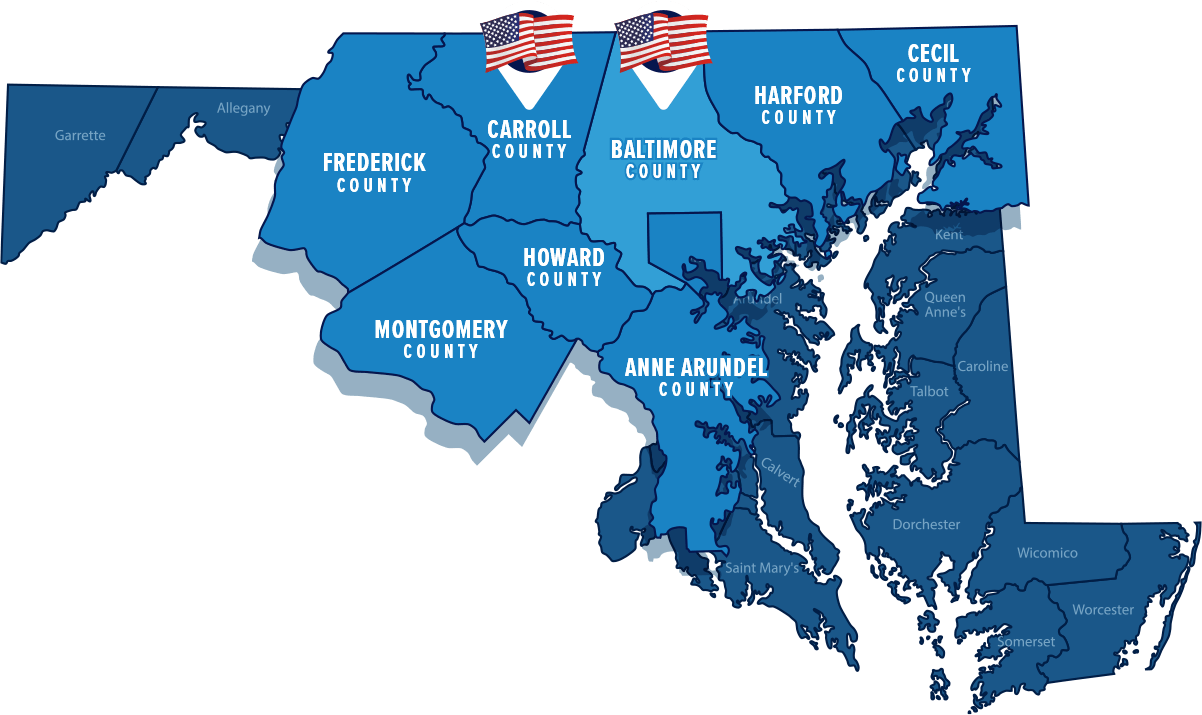 Areas We Service in Maryland
Our lawn care company started with just four customers. While we've grown since then, we still have a personal touch that's only possible from a small business. We're proud to service areas in Maryland including: