Image
Reliable, Organic Eldersburg, MD Lawn Care
Lawn Care in Eldersburg
We believe every resident deserves the kind of service that makes their lawn look spectacular and makes them feel valued as a customer. When you trust us with your green space, you can expect:
Personalized, professional lawn care solutions.
Fast and effective service.
Free service calls, answered by one of our expert team members, not a robot.
Eco-friendly, organic treatment options.
High-rated technicians certified by the Maryland Department of Agriculture.
All your lawn care and pest control questions are answered because we love what we do!
Take a look at our programs and give us a call when you're ready to get the lawn you've always wanted, starting with a FREE no-obligation lawn estimate.
Image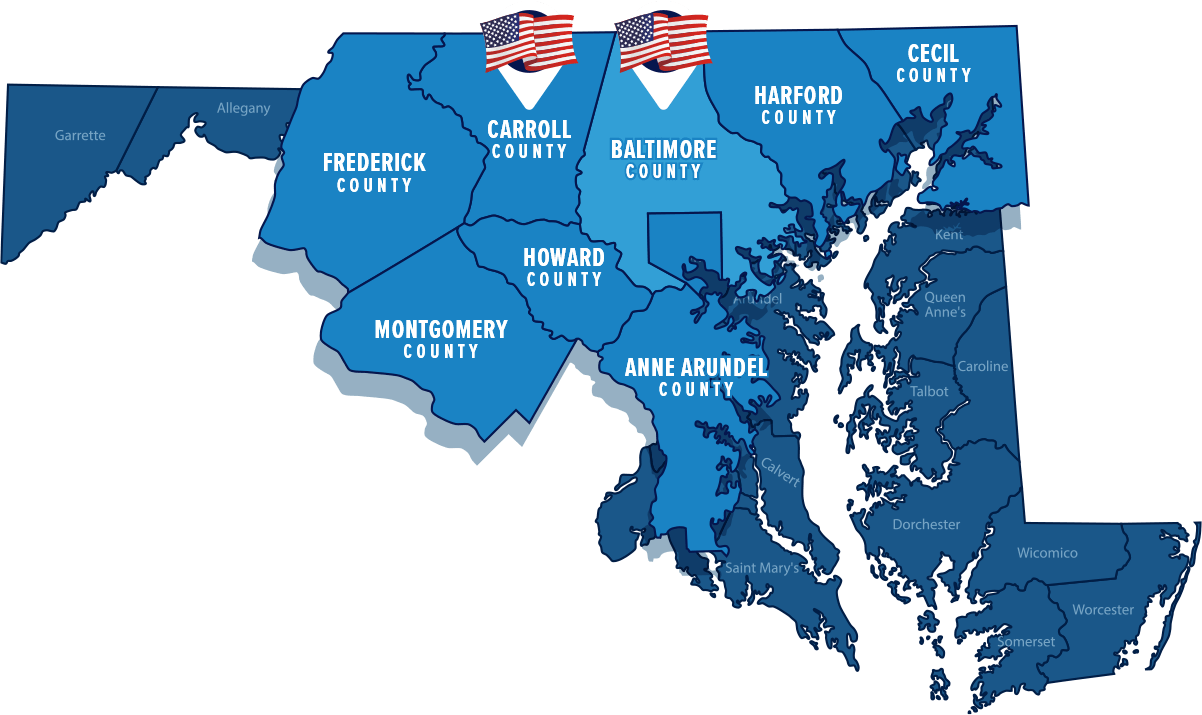 Look No Further: Our Lawn Care Programs Have You Covered!
Healthy lawns look how they feel: vibrant and nourished. But achieving such a turf takes more than regular watering. We also know that thinking about lawn care essentials beyond that can quickly add overwhelming pressure to your free time and wallet. Our goal is to dig you out of that staggering burden by offering complete organic-based lawn care programs and services.
Our Lawn Care Services Include:
Lawn fertilization.
Core aeration and seeding (overseeding and slit-seeding)
Weed and disease control.
Surface insect control.
Mosquito control.
Grub control.
Power raking.
7 Rounds of Expert Eldersburg lawn care services:
American Lawn and Tree Specialists ensure you don't need to worry about missing crucial services. Our complete program includes 7 rounds of:
Pre- and post-emergent weed control.
Slow-release, organic-based, and dry fertilizer applications.
Soil conditioner.
Spot treatment for weeds and active pests.
Services begin with soil pH testing to determine precisely what your lawn needs to look and feel its best. Call us for a FREE no-obligation lawn estimate today!
Tree and Shrub Care in Eldersburg
Having trees, shrubs, and ornamentals in your yard yields to gorgeous curb appeal and colorful landscaping; but when ruthless insects or leaf diseases invade, eliminating them effectively without damaging your prized plants can seem like more trouble than it's worth.
We take tree and shrub care seriously because we love what they do for your yard (and our planet!). Our 8-step Tree and Shrub Care Program is the quickest and most effective way to care for your shrubs, trees, and ornamentals.
Our 8-step Tree and Shrub Care Program Includes:
Inspection to identify needs and develop a personalized care program.
Horticultural oil application to kill damaging pests on contact.
Insect and disease control applications every 21 days from March – October.
Winter anti-desiccant to reduce water loss during the cold season.
Vegetation & Weed Control in Eldersburg
We, too, hate what weed invasions do to your lawn. Crabgrass, chickweed, nutsedge, spurge, and other common weeds not only ruin the look of your lawn; they also invite pests to party at your property and steal nutrients from your favorite plants.
Enter Our 6-step Vegetation Control Approach
Our vegetation control program provides treatments more aggressive than the weeds taking over your yard while keeping your plants and loved ones safe.
Starting in March, we treat your turf, garden beds, fence lines, sidewalks, and driveways with per-emergent weed control. From there, any weeds that dare to sprout through are targeted with a powerful post-emergent.
Pest Control in Eldersburg
We understand everyone's pest control needs are different. Our pest control services cover the scope of what you need to keep mosquitoes, fleas, ticks, grubs, and other nuisances from ruining your time outside.
Stop Letting Pests Spoil Your Space!
Our pest control services focus on treatment and prevention solutions administered by our certified and licensed technicians. We offer:
Complete, customized programs or one-time treatments for events.
Perimeter pest control to keep bugs out of your home.
Surface insect control to save your lawn from turf-damaging insects.
Flea and tick control.
Environmentally-friendly, no-harm deer and mole control
Mosquito control and prevention program.
Mosquito Control in Eldersburg
Are mosquitos ruining your time spent outside? Contact American Lawn & Tree Specialists for expert mosquito control in Eldersburg. Mosquito control is essential for your comfort and safety which is why our mosquito treatments are designed to exterminate these pests effectively.
Our mosquito exterminators in Eldersburg will provide:
A free inspection

Custom mosquito treatments target specific areas to eliminate these pests.

Larvicides that ensure mosquitos have no chance to breed.
Take control of your outdoor environment with professional mosquito control in Eldersburg. Say goodbye to pesky mosquitos with our comprehensive mosquito services. Invest in mosquito treatments today and regain your peace of mind.
Lawn Aeration in Eldersburg
Is your lawn struggling to grow thick and strong? Our lawn aeration service in Eldersburg is designed to promote healthier turf. Benefits of our aeration services include:
We specialize in removing excess thatch, allowing your lawn to breathe and thrive.

Our core aeration process ensures that water, nutrients, and oxygen can penetrate deep into the soil, resulting in a greener and more robust lawn.

With our quick and efficient service, you'll start seeing results in no time.

Our treatments are long-lasting, providing ongoing benefits and maintaining the health of your lawn.
Experience the power of our professional lawn aeration service in Eldersburg and enjoy a luscious and vibrant lawn. Unlock the full potential of your turf with deeper nutrient release and revitalization.
Looking for Lawn or Tree Service Around Eldersburg?
We offer lawn and tree care services in the following cities around Eldersburg, MD: