Image

Protecting Your Maryland Home From Pests For 29+ Years
Small, Locally-Owned Business
Pest Control in Central Maryland
Protect your family and pets from various infectious diseases with a safe and effective Pest Control Program from American Lawn and Tree Specialists. With insects and other pests, it's important to have an effective prevention strategy.  Our technicians have certified pesticide applicators licenses through the state of Maryland and are constantly being trained and updated on the most current chemical technology. This is essential because the laws regarding pesticides are continually changing, and insects are becoming resistant to chemicals that were more effective years ago. Many chemicals are now insect-specific. American Lawn and Tree Specialists tailor our treatments to each customer's specific needs, starting with our perimeter pest control.
American Lawn and Tree Specialists Provide the Following Pest Control Services
Pests can ruin your schedule and stress you and your family out. Let the technicians from American Lawn and Tree Specialist help as we offer no contracts, Saturday servicing, and free inspections!
Perimeter Pest Control in Central Maryland
While you may not think bugs are getting into your central Maryland home, there are tons of entry points you probably haven't thought of such as openings around windows and doors, cracks in the foundation walls, crawl spaces, and openings around electrical outlets. Your home should be your place of refuge. That's why American Lawn and Tree Specialists offer full perimeter pest control to help protect your family and your home. We start with an application in April and reapply every 30 days for six months. We target all entry points around the home. Our Perimeter Pest Control Program helps to prevent insects such as spiders, earwigs, centipedes, and various other creepy crawlers from getting in. Not only does this program eliminate unwanted insects from invading your property, it also offers the following benefits:
It is odorless and colorless
It is harmless to soil, flowers, bushes, and lawns
Keeps the insecticides out of your home
Surface Insect Control in Central Maryland 
Our surface insect control reduces populations of turf-damaging insects. Surface-feeding insects such as armyworms, cutworms, sod webworms, chinch bugs, ants, fleas, and ticks destroy grass by chewing blades or sucking plant juices. The damage caused can show up in many ways. This includes:
The weakening of plants or grass
Patches of grass with an uneven appearance
Yellow or brown areas of the lawn
Patches of lawn dying
American Lawn and Tree Specialist's surface insect control can help protect your lawn and pets' health while enhancing the overall enjoyment of your outdoor living space.
One-Time Event Treatment
Planning a special outdoor event such as a graduation party or a wedding? American Lawn and Tree Specialists can help. Our friendly staff will evaluate your site and provide you with a thorough Pest Control Program suitable for you. We can come out for a one-time treatment and continue on an as-needed basis if you're interested in purchasing a full program.
Get 50% Off Your First Mosquito Treatment
Flea and Tick Control in Central Maryland 
Fleas and ticks are not just annoying. They're dangerous carriers of harmful diseases for both you and your pets. These diseases include but are not limited to Lyme disease, Rocky Mountain Spotted Fever, and murine typhus. Twenty adult fleas can produce over 2,000 eggs in one week. Fleas are as tiny as a poppy seed and are difficult to detect. American Lawn and Tree Specialists target the areas of your property where fleas and ticks thrive including shaded areas, tall grass, underneath decks, rocks, and leaf litter.  By using a combination of sprays that kill both adult pests and prevent their eggs from hatching, American Lawn and Tree Specialists can kill generations of fleas and ticks in one application.
Environmentally Friendly Deer Control in Central Maryland
Protect your valuable central Maryland vegetation from deer without causing any harm to these beautiful creatures. American Lawn and Tree Specialists offer an organic and environmentally conscious approach to keeping deer at bay.
Environmentally Friendly Mole Control in Central Maryland
Moles create tunnel systems under your ground, damaging your lawn's roots and causing ugly "speedbumps" on the surface. We have a unique approach when it comes to removing moles. First, we remove their food source, grubs, and replace them with active bait for an effective solution that our customers love.
Grub Control in Central Maryland
Grubs have the ability to do serious damage to your lawn by feeding on the roots and stealing important nutrients from your turf. These lawn pests will eventually turn into adult beetles that will also cause terror for your yard by eating plants around your garden. If you are unsure if you have grubs, look at your turf and lift up any dead brown patches of grass to find the insects. American Lawn and Tree Specialist offer expert grub control in Central Maryland to determine where the infestation is and eliminate it before your lawn is completely dead. 
Image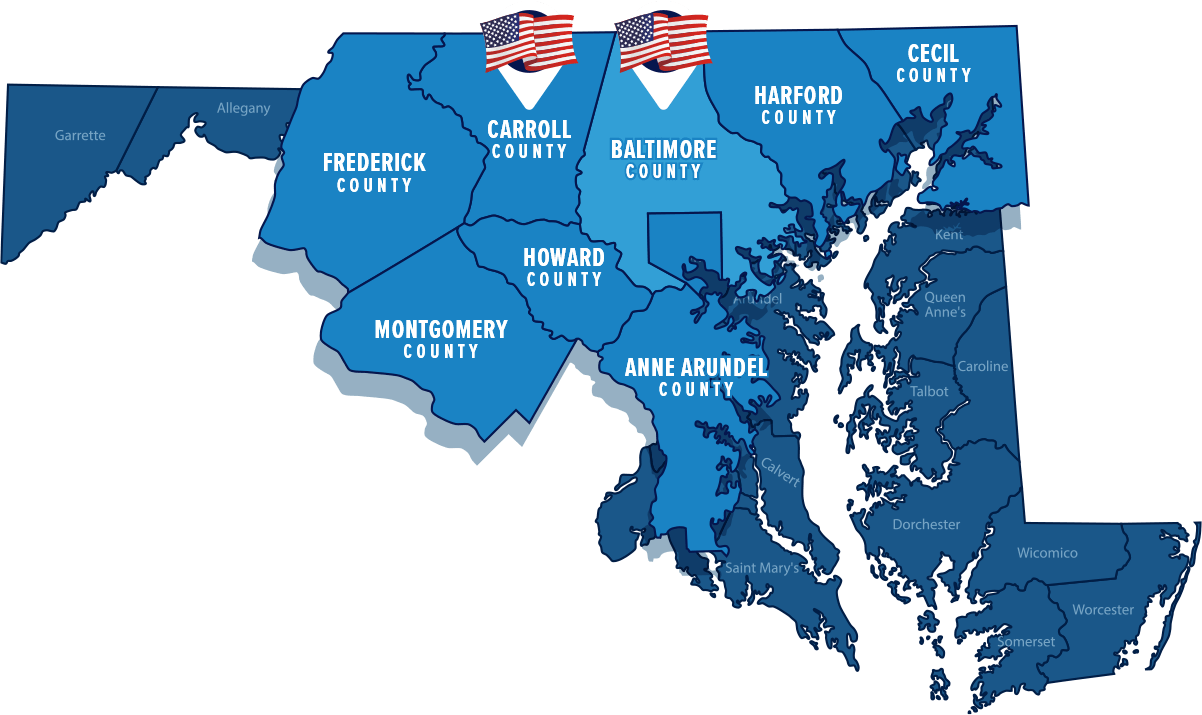 Areas We Service in Maryland
Our lawn care company started with just four customers. While we've grown since then, we still have a personal touch that's only possible from a small business. We're proud to service areas in Maryland including: