Image
29+ Years of Baltimore Lawn Care Services
Lawn Care in Baltimore
Baltimore may be Maryland's largest city, but its welcoming culture and area traditions give it a neighborly charm. Our lawn care services at American Lawn and Tree Specialists reflect the same blended traits: the knowledge and efficiency of the nation's largest lawn care companies with the personalized, attentive care of a locally owned business. We're proud to offer reliable and organic-based lawn care to Baltimore's hundreds of thousands of homeowners, guaranteeing customized solutions and outstanding customer service in every job we do.
Our Services in Baltimore
Organic-based Lawn Care Program
Aeration and seeding
8-step Tree and Shrub Care Program
Power raking
Disease control
Weed control
Pest control
Mosquito Prevention Program
Unsure What Your Lawn Needs?
We can't get enough of talking about lawn care, and we happily provide free service calls. Let us know about your concerns and receive a free no-obligation service estimate.
Image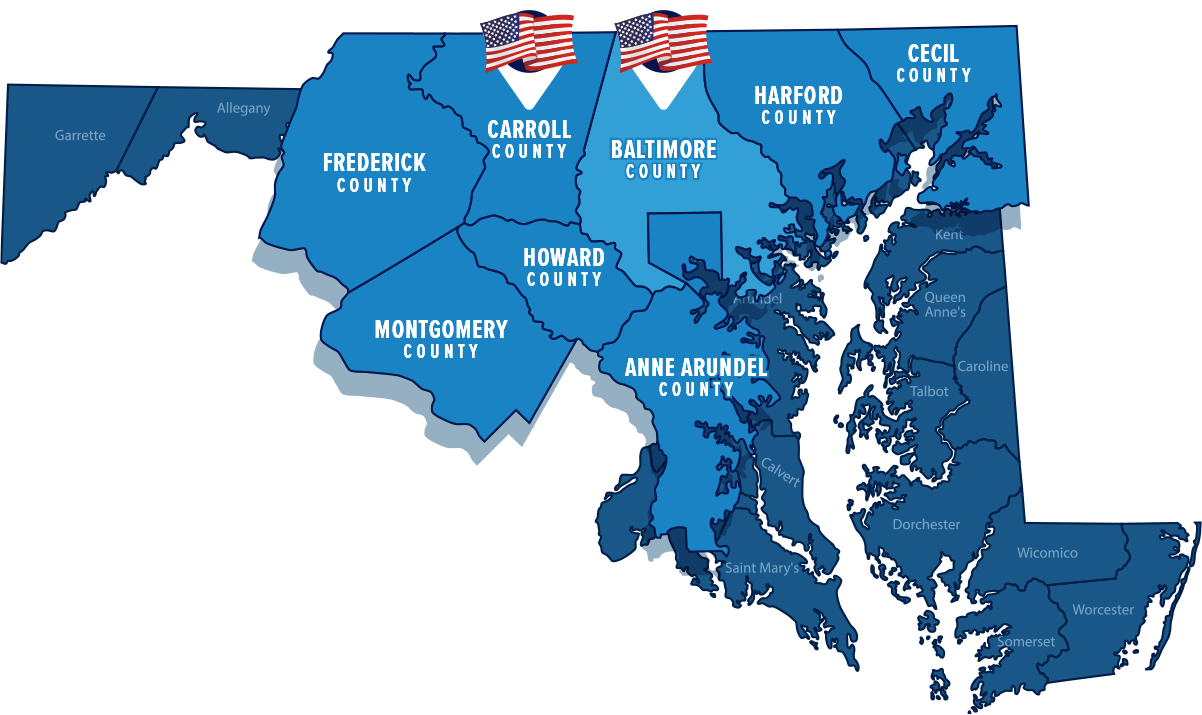 Baltimore Lawn Care Services With No Contracts
It's discouraging when your Baltimore yard doesn't reflect your best efforts or offer a hint to where they might be lacking. Our Organic-based Lawn Care Program is specially designed to cover all of your turf's needs by feeding it the correct amounts of fertilizer at the appropriate times and preventing obnoxious weeds from invading your outdoor retreat.
We start our program with a soil test to determine pH imbalances and nutrition deficiencies. Our team, certified by the Maryland Department of Agriculture, uses the results to create a personalized lawn care solution that includes:
Pre- and post-emergent weed control from early spring to fall.
Precisely timed slow-release, organic-based, and dry fertilizer applications.
Root-strengthening soil conditioner is applied in early summer.
Targeted treatments for weeds and pests that have the nerve to show up while we're on site.
Our Reliable Lawn Care Services Keep Your Yard Bright and Healthy
When you choose American Lawn and Tree Specialists, you can trust the convenience of having a one-stop lawn care shop at your service. Aside from our encompassing Organic-based Lawn Care Program, we offer: 
Core aeration and seeding (overseeding and slit-seeding) 
Power raking.
Lawn disease control.
Surface insect and grub control.
Mosquito control.
Tree and Shrub Care in Baltimore
As a member of the Frederick Area Landscape Contractors, Owner Joe Perry relates to the pride you take in your trees and shrubs. For the amount of curb appeal, shade, and oxygen they bring to your landscape, your trees and shrubs demand routine care, and our 8-step Tree and Shrub Care Program ensures your yard's lead celebrities are at their best year-round.
Our 8-step Tree and Shrub Care Program
We take tree and shrub care seriously, as well as your right to enjoy your yard to its fullest. Our Tree and Shrub Care Program consists of specialized treatments that protect your precious plants from damaging insects and disease while nourishing them with our well-blended fertilizer. Our program includes:
A thorough inspection to identify needs and develop a custom care program.
Root zone fertilization to maximize your trees' and shrubs' health.
Horticultural oil application to kill damaging pests and boost plant resilience.
Insect and disease control applications from March – October.
Winter anti-desiccant to reduce water loss during Baltimore's cold months.
Vegetation & Weed Control in Baltimore
When you spend more time pulling weeds from your yard and gardens than you do enjoying your outdoor space, you deserve a better method of weed control. Our professional vegetation control solutions get rid of these ugly plants that ruin the look of your yard, driveway, and garden beds.
Our 6-step Vegetation Control Approach Includes:
Pre-emergent weed control is applied in March to your lawn, garden beds, pathways, fence lines, and driveway. Post-emergent weed control targets persistent weeds that pop up throughout the season.
Our vegetation control methods eliminate enemy weeds with powerful treatments that won't harm your loved ones or the plants you actually want in your yard. Call us to handle your weed problems today!
Pest Control in Baltimore
If you can't enjoy your yard without insects disrupting your bliss, give us a call to discuss our pest control and mosquito control programs. Our suite of services, performed by our certified and licensed technicians, removes pests from your yard by focusing on prevention and effective treatments.
Our Pest Control Services
Perimeter pest control
One-time event treatment
Surface insect control
Flea and tick control
Mosquito control and prevention program
Organic deer and mole control
While our treatments aggressively eliminate damaging and health-hazardous pests, they are also safe to use around your pets and loved ones to ensure there are no worries there. 
Eco-friendly, Organic Deer and Mole Control
Just because you're tired of deer munching on your plants or moles constructing tunnels under your yard doesn't mean you want to harm them. We have organic solutions to repel Maryland's beloved—but at times mischievous—wildlife so that you can protect your yard while preserving the environment and these majestic creatures.
Get the Lawn of Your Dreams!
We're here to keep America the Beautiful, beautiful. That includes your yard! Take a look at our programs and call us today for a free no-obligation lawn care estimate.
Not in Baltimore? See Our Other Service Areas!
American Lawn and Tree Specialist offer lawn care services to many different cities surrounding the Baltimore area. These include: 
Abingdon
Bel Air
Edgewood
Elkridge
Fallston
Forest Hill
Germantown
Jarrettsville
Rockville
Rosedale
Silver Spring