Image
29+ Years of Ellicott City Lawn Care Services
Lawn Care in Ellicott City
American Lawn and Tree Specialists has A-ratings with the BBB and Angie's List, along with several 5-star reviews from our customers and HomeAdvisor. We don't say this to toot our own horn; we say this because you and your property deserve the best and we guarantee you'll get it with:
Expert lawn evaluation and soil test prior to every lawn care service.
Personalized solutions created based on your specific needs.
Organic and environmentally conscious approaches to lawn care, tree and shrub care, and vegetation control.
Friendly and highly knowledgeable specialists who know how to deliver safe and effective pest control.
Answering your service calls personally, never with a robot.
Image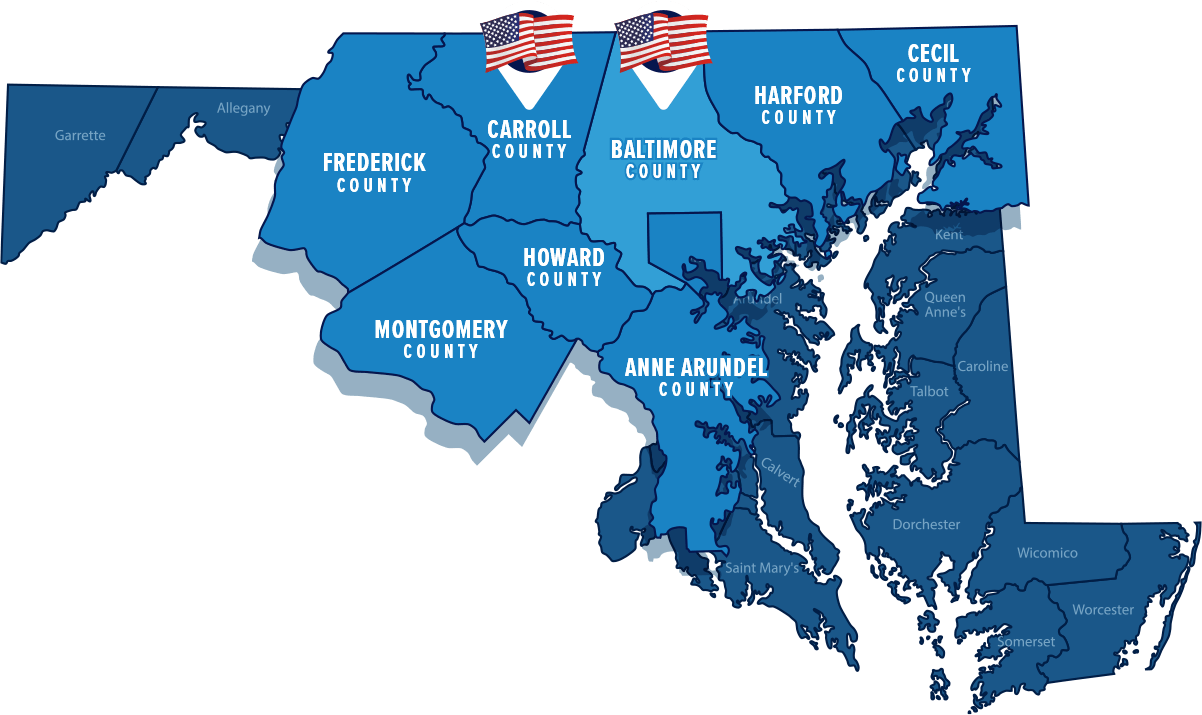 Ellicott City, MD Technicians At Your Convenience
If you've ever looked at Ellicott City's golf courses with envy as green as the fairway, American Lawn and Tree Specialists' extensive list of lawn care services delivers resort-quality turf right outside your door. Our Organic-based Lawn Care Program begins with a soil test to pinpoint issues that may be upsetting your grass, like pH imbalances or an insufficient supply of nutrients. From there, our certified technicians customize a plan for your landscape, which includes:
Deliberately timed and designed lawn fertilization applications.
Soil conditioner to strengthen grassroots.
Pre-emergent and post-emergent vegetation control.
Regular inspections followed by expert pest or disease control recommendations, if needed.
Saturday Servicing
Complete customer satisfaction.
Our Additional Services Give You Time to Enjoy Your Yard to Its Fullest
Rather than let round-the-clock lawn care keep you from enjoying your outdoor space, allow American Lawn and Tree Specialists keep your lawn gorgeous with our additional services:
Power raking
Surface insect and grub control
Mosquito control
Lawn disease control
Grassy weed control
Core aeration and seeding (overseeding and slit-seeding available)
Professional soil test (recommended once every 3 years)
Limestone treatment
Tree and Shrub Care in Ellicott City
As an active member of the Frederick Area Landscape Contractors, Owner Joe Perry understands how much you value your trees and shrubs. That's why American Lawn and Tree Specialists has worked tirelessly perfecting our 8-step Tree and Shrub Care Program to offer full-service hospitality to your landscape's lead characters.
Our 8-step Tree and Shrub Care Program Includes:
Tree and shrub analysis to determine possible issues and create a specialized care plan.
Root zone fertilization to maximize your tree and shrub health.
Horticultural oil application to kill damaging pests on contact and serve as consistent pest control.
Insect and disease control treatments that won't harm pollinators.
Winter anti-desiccant to reduce water loss during the cold months.
Vegetation & Weed Control in Ellicott City
Weeds are survivalists, which is not good news for your lawn. Luckily, our vegetation control specialists have decades of experience eliminating unwanted plants from your property and preventing them from coming back.
We'll eliminate unsightly weeds from your:
Lawn
Sidewalk
Flower and mulch beds
Gardens
Walkways
Fence line
And more!
Year-round Weed Control with Our 6-step Program
Weeds not only spoil the look of your lawn; they also steal nutrients from other lawn care applications. We don't give weeds the chance to steal vital nutrition from your plants. Starting in March, we treat your entire property with pre-emergent weed control to prevent springtime invasions. Any weeds that make it past our powerful vegetation control barrier will be targeted with a post-emergent to keep your lawn flawless all year.
Pest Control in Ellicott City
Without effective pest and mosquito control, insects can hinder your lawn care efforts and make your outdoor retreat an uncomfortable nightmare. American Lawn and Tree Specialists protects you and your family from annoying, disease-spreading pests with a full menu of pest control services—including mosquito control—that stops these nuisances from taking over your outdoors and invading your home.
Our pest control services in Ellicott City include:
Perimeter pest control.
Mosquito Prevention Program
Surface insect control/grub control.
Flea and tick control.
No-harm, organic deer and mole control.
We provide complete personalized programs and one-time treatments.
Lawn Aeration in Ellicott City
Our lawn aeration service in Ellicott City will transform your lawn into a lush and healthy landscape.
Here are the key features of our lawn aeration program:
Promotes healthy turf growth:

Our lawn aeration service enhances the overall health and vitality of your turf, resulting in a greener and more vibrant lawn.

Dethatches turf:

By removing excess thatch, our service improves the air circulation and moisture absorption in your lawn, creating optimal conditions for growth.

Long-lasting treatments:

Our lawn aeration service provides long-term benefits, ensuring that your lawn remains healthy and beautiful for seasons to come.
With our lawn aeration service, you can expect deeper nutrient release in your soil, promoting the growth of strong and resilient grass. Don't miss the opportunity to unlock the full potential of your lawn. Trust our professional lawn aeration team to deliver exceptional results. Invest in your lawn today and enjoy a picture-perfect landscape tomorrow!
Mosquito Control in Ellicott City
Mosquito control in Ellicott City is essential to protect yourself and your loved ones from the dangers of these pesky insects. Our expert mosquito exterminators offer a range of effective services to help you take back control of your outdoor space. We proudly offer:
A free inspection to assess your property. 

Custom mosquito treatment plans tailored to your specific needs.

Targeted larvicides are applied in key areas to eliminate mosquito breeding grounds.

Reduced mosquito populations.
Say goodbye to annoying bites and the risk of mosquito-borne diseases with our comprehensive mosquito control services in Ellicott City.
Looking for Lawn or Tree Care Around Ellicott City?
We offer lawn and tree care services in the following cities around Ellicott City: