Image

Two Decades of Experience for Central Maryland Lawns
Small, Locally-Owned Business
Lawn Care in Central Maryland
Everyone deserves a beautiful yard, but not everyone has the time to make it happen. Luckily, the experts here at American Lawn & Tree Specialists are here to help! We have over 29 years of experience, so we know how to solve problems from stubborn weeds to brown patches and everything in between. Our lawn care technicians will do all the hard work for you, so all you have to do is sit back and enjoy your beautiful outdoor space!
Depending on your needs, our lawn care program for Central Maryland may include:
Fertilizer applications

to stimulate new growth and strong roots.

Weed control

to eliminate existing weeds and stop new ones from growing.

Disease treatmen

t to stop fungal problems from spreading throughout your yard.

Aeration and overseeding

to break up compacted soil and regrow your grass.

Grub control

to stop hungry beetle larvae from destroying grass roots.

Soil testing

to look for nutrient deficiencies and pH issues.
Our Organic Lawn Care Option
With American Lawn and Tree Specialists, we strive to provide lawn care options that fit everyone's needs, which includes an organic option! Our technicians will use the perfect amount of organic-based products to give you a healthier yard while ensuring your turf is extra safe for kids, pets, and the environment. With our lawn care in Central Maryland, our process includes a 6 step program:
Round 1: Late Winter/Early Season

Round 2: Spring

Round 3: Late Spring/Early Summer

Round 4: Summer

Round 5: Summer/Early Fall

Round 6: Fall

Round 7: Late Fall/Early Winter
Lawn Fertilization in Central Maryland
If your grass is yellow, thin, or just not growing, you probably need to fertilize it. Your grass gets nutrients like potassium, nitrogen, and phosphorus from the soil. Over time, however, these nutrients run out and have to be replenished. That's what our lawn fertilization in Central Maryland does! We schedule strategic applications throughout the year, giving your yard a boost during growing periods and preparing it for season changes.
Benefits of lawn fertilization include:
Faster growth

to fill in thin patches, making your yard look lush and even.

Fewer weeds

, since thick grass leaves less space for weeds to take hold.

Stronger, more expansive root systems

that lead to healthier grass blades.

Grass that

recovers faster

from temperature changes, foot traffic, and other stressors.
Work with the Local Lawn Care Experts
As a locally-owned business, American Lawn and Tree Specialists take great pride in helping our neighbors achieve their dream landscape. We also value all the relationships we've built with our customers, and we can't wait to get to know you! You can trust that we'll treat your yard as if it was our own, giving your property the care and respect it deserves. There's nothing better than local yard care!
Get Excellent Curb Appeal Without a Contract
When you partner with American Lawn & Tree Specialists, you don't have to worry about an unnecessary contract. While we do recommend routine visits for the best results, we leave that decision to you. Whether you sign up for seasonal treatments or just need occasional help, you'll always get exceptional service without being forced into a binding contract.
Image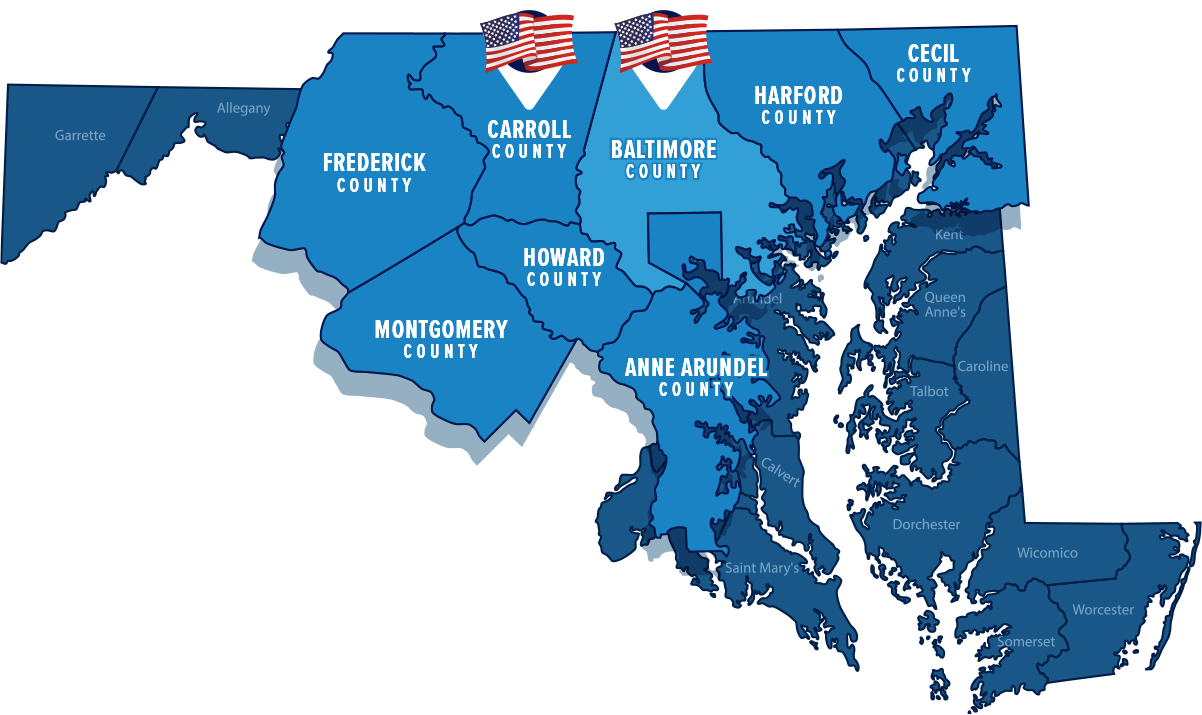 Areas We Service in Maryland
Our lawn care company started with just four customers. While we've grown since then, we still have a personal touch that's only possible from a small business. We're proud to service areas in Maryland including: