Image
Don't Let Mosquitoes Bother You This Summer
Small, Locally-Owned Business
Mosquito Control in Central Maryland
Mosquitoes multiply in no time, taking over your yard and making it impossible to step foot outside without getting covered in bites. We want you to be able to enjoy your time outdoors, which is why we offer expert mosquito control in Central Maryland. With personalized programs and one-time applications available, American Lawn & Tree Specialists have you covered in the warm seasons.
Protect Your Loved Ones from Mosquitoes
Just because they're small, doesn't mean that mosquitoes are harmless! In addition to causing itchy bites, these pests can transmit serious diseases like malaria and West Nile virus. Store-bought sprays or citronella candles can help repel mosquitoes, but they don't target them at their source. For an added layer of protection, trust our mosquito control in Central Maryland. 
When you partner with our technicians, we will: 
Search your yard

for sources of standing water that are attracting these pests.

Create a

custom treatment plan

based on your property's needs.

Give you a

noticeable reduction

in the number of mosquitoes flying around.

Keep your friends and family

protected

all season long.
Schedule Your Inspection Today
See Results from Maryland Locals
At American Lawn & Tree Specialists, we're all Maryland locals just like you! We know how lovely it is to spend time outside here in the summer, but we also know how easily mosquitoes can ruin things. That's why we're so dedicated to providing the best mosquito control solution for your home. We'll always go above and beyond to ensure you get the best care possible—after all, you're not just a customer, you're our neighbor!
How to Keep Mosquitoes Out of Your Yard
Mosquitoes can fly several miles per day, making it impossible to keep all of them out of your yard. However, pairing together preventative measures and professional treatments can give you great results! They need standing water to lay their eggs, so by eliminating water sources you're stopping hundreds of mosquitoes from hatching in your backyard.
Here are our best tips:
Change the water in bird baths every other day.

Clean your gutters routinely to make sure they don't clog.

Pick up debris in your lawn, like fallen leaves or branches.

Keep your grass mowed so it doesn't get too tall.

Repair leaky spigots or pipes outside.
Say Goodbye to Mosquitoes Without a Contract
No one wants to sign an annoying contract or be roped into a service they don't need. When you choose our mosquito control in Central Maryland, you don't have to worry about either of those things! We offer no-contract services, so you're always in charge. You get to choose the services you want and we'll never try to talk you into something you don't need.
Image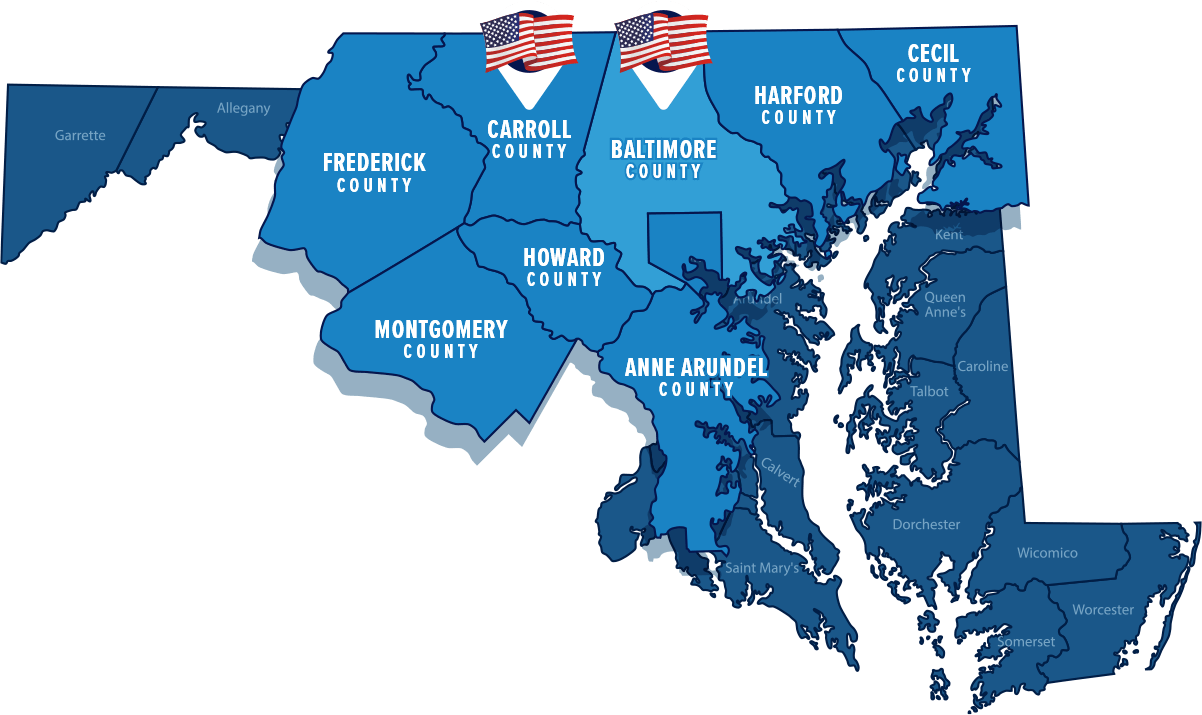 Areas We Service in Maryland
Our lawn care company started with just four customers. While we've grown since then, we still have a personal touch that's only possible from a small business. We're proud to service areas in Maryland including: