Is Your Sykesville Area Yard in Need of Lawn Aeration?
Image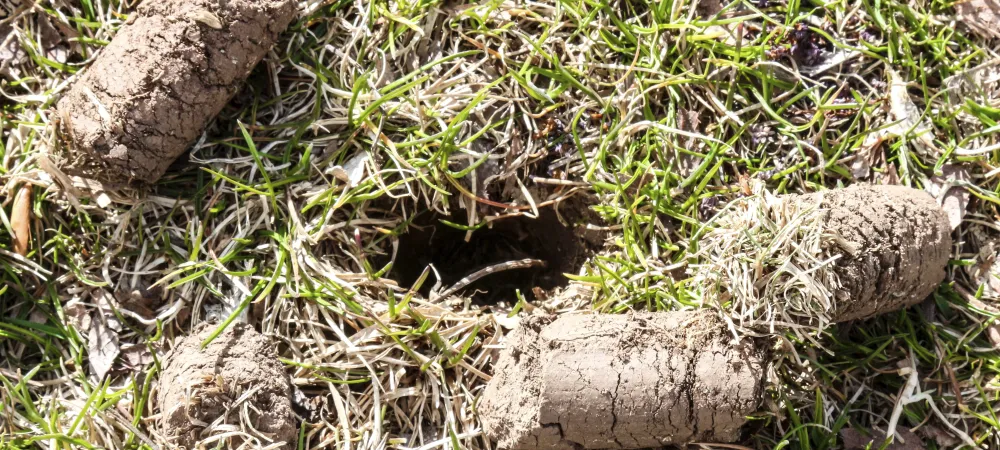 As summer starts to draw to a close here in the Sykesville area, it's time to start thinking about fall lawn care. Maryland's s summers can be harsh on even the healthiest lawns as heavy use, traffic, drought, and high heat can cause stress, damage, and lawn fatigue. If your grass starts to look tired, with bare patchy spots and spongy areas, you may have compacted soil and need lawn aeration. Read on to learn everything you need to know to determine if your Sykesville lawn is suffering from compacted soil, how you can revitalize it with aeration and overseeding, and the benefits of aerating and overseeding your grass.
First, What Is Compacted Soil?
A large amount of time we spend playing on, walking on, and even mowing our grass can cause the soil underneath to become compact. The situation can be made worse by an added layer of thatch or organic matter that creates a barrier between the grass and the soil. When soil is compact, it doesn't allow water, nutrients, or air to pass through it. This will cause your grass to wither, weaken, and exhibit signs of drought.
How Do You Know If You Have Compacted Soil?
Compacted soil can look and feel like many other lawn conditions. You can perform your own do-it-yourself soil test by placing a screwdriver into the ground. If it's dry and does not penetrate the earth easily, your soil is probably compacted. There are a few telltale signs to look for, including:
Bare or patchy areas of grass
Spongy grass that feels soft when you walk on it
Pooling areas of water in your yard
Stunted growth of plants 
Hard soil
The best way to treat compacted soil is through a process called aeration.
What is Lawn Aeration?
Aeration is the process of creating holes throughout your grass to redistribute the soil. This process allows air, water, oxygen, and nutrients to permeate the roots of your soil. Aeration can be done by poking holes in your lawn with an aerator machine or liquid granulation that stimulates the microbes in the ground. Both processes rejuvenate the grass and increase its health and vitality. The benefits of aerating your turf are endless. A few of them include:
More profound, stronger root growth
Thicker, healthier grass
Grass will grow much easier
Bald and thinning patches filled in
A breakdown in thatch build-up
A reduction in water runoff
A healthier, more substantial yard
When Is the Best Time To Aerate My Sykesville Area Lawn?
Experts agree that aeration should be done at least once, in some cases twice a year. The spring and fall seasons are the best times to aerate your lawn. Fall aeration and overseeding are best for minimum weed germination when the roots are most actively growing. If your turf is thin in areas, your grass should be overseeded when aeration is done.
Overseeding Your Sykesville Lawn
After aerating your lawn, it is primed and ready for overseeding. Overseeding is introducing new types of grass seed to the existing turf with other strains of grass. Overseeding is particularly effective after aeration because the aerated, loosened soil is now ready to accept the growth of the new seeds. Overseeding benefits include:
To fill in any bare areas
To create thicker grass and prevent weeds
Fend off pests, drought, and disease 
Enhance appearance and color
At American Lawn and Turf, we use high-quality turf-type tall fescue for overseeding. If there are overwhelming areas of bare spots on your lawn, we use a process called slit-seeding which is a bit more aggressive but returns faster results.
Where We Service
American Lawn and Tree Specialists currently works in:
Bel Air
Ellicott City
Frederick
Gaithersburg
Sykesville
And more!